Sunday was mother's day. I hope you remembered. (And don't say I didn't warn you.) I've been wanting to share this project with you since I found it, but since I made one as a gift for MY mother I couldn't very well post it until I had given it to her. So here you go...straight from
futuregirl.com
, the Starling Handbag.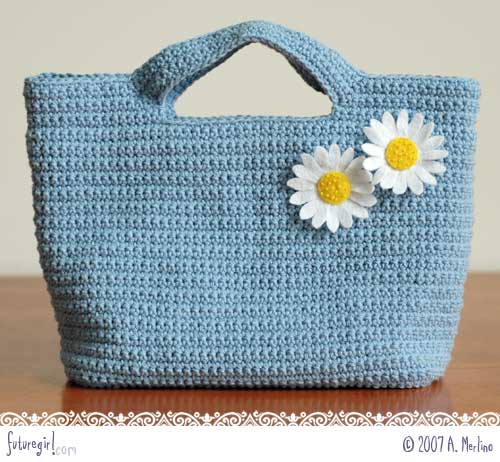 You can find the pattern on her downloads page (which conveniently is the page I linked for you above.) I made 2, one for myself and one for Mom. I followed the pattern for the medium sized bags. For mom's I chose a light green sugar'n'cream crochet cotton and followed the pattern exactly. I varied mine a little. I used Cottonease yarn in charcoal, which actually looks Navy Blue. Also, the pattern calls for 30 stitches in the handles. I made mine with 50, which after a couple of uses has stretched to make them just long enough that I can carry the purse on my shoulder instead of using it as a hand bag (without feeling like the entire thing is falling apart.)
I also followed her tutuorial for
sewing a lining
for the bag. HIGHLY RECOMMENDED. It makes the project seem more finished. And if all of this seems intimidating, just relax. With as many pictures and detailed instructions that she's got on the site...there's practically NO WAY you could screw up. Really. These are some of the best tutorials I have seen on any craft site. EVER. Many kudos to her, for the amount of time and effort she put in to post these amazing projects.
So now you know what my Mom got. What did you make for yours?