As promised...photos and instructions for the wedding favors.
In case you missed them before, here's the list of materials you'll need:
Glassine favor bags, mine came in a pack of 100 from Wilton. (Which is handy, because that's the number I need to make!)
Wild flower seed mix of your choice. I purchased two 32 oz bags, which I'm approximating will be enough for just over 100 favors
Hand-held ribbon punch
Ribbon, no wider than your punch will accomodate. Mine is 1/4 inch wide, and I'll be using 12 inches per favor.
Colored office paper to match your theme
Decorative scrapbooking brads. I purchased two 50 packs of silver hearts.
You will also need some sort of word processing software and a printer, and either a paper trimmer or a pair of scissors to separate your "flyers".
The first thing you need to do is create the flyers with your personalized message. I found a cute quote about gardens, and included a little note for my guests. Use your word processing software to maximize the number of flyers you can print on one sheet. (Hint: you can make them 2 sided and include the planting instructions for the seeds on the side that faces the bag.) In my case, I was able to fit 6 "messages" on one page. Don't forget to leave extra space at the top of the message to allow for the decoration above it.
Next, start filling your bags with the flower seeds. I put 1 Tablespoon of seeds in each bag. It may not look like a lot, but there are plenty of seeds in that small amount of mixture. If you'd like to add more, don't be afraid to do so, just expect that you may have to purchase another bag of seeds.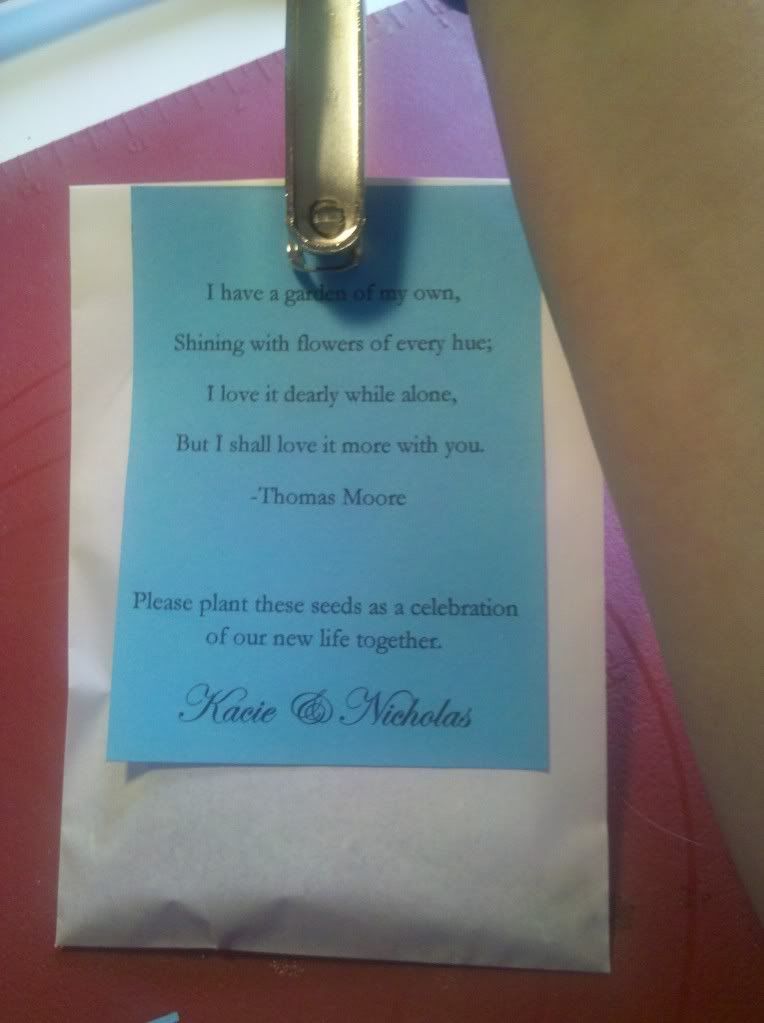 Before I go too much farther, let me stop and explain what a ribbon punch is. It works just like a single-hole punch, but instead of making a round hole, it leaves 2 parallel rectangles which are designed to string ribbon through. You can get them in a single, hand-held punch like I used for this project, or as a larger punch designed for borders, which will punch multiple holes at the same time, while keeping them evenly spaced.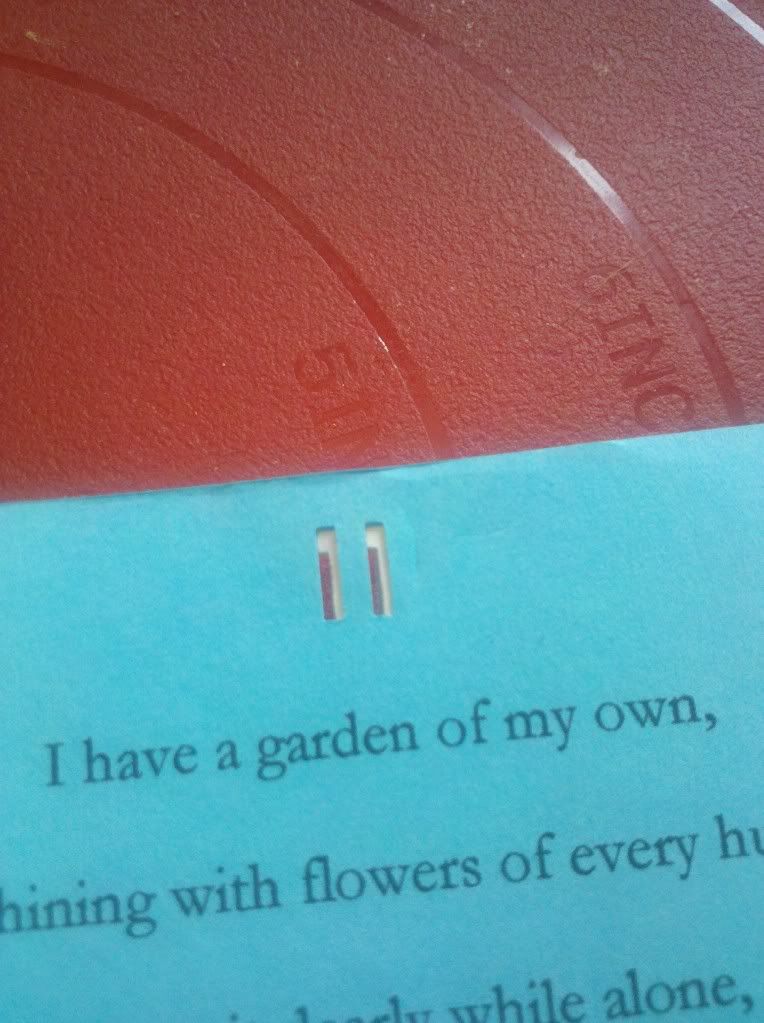 This is what the holes look
like for a ribbon punch.
After your holes are places, cut a section of ribon 12 inches long, and string it through the holes. Tie it in a bow, being careful not to pull too tightly that it crushes the center divider between your two punched holes.
You should have a little wiggle room after tying the knot of your bow. Using that same space, slide the brad into the holes just below the bow. Open the tongs on the back side of the envelope to fasten it in place.
Ta-dah! You have a finished wedding favor to pass along to your guests.